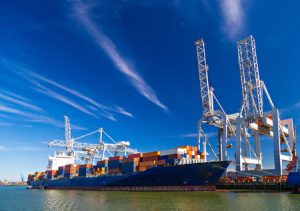 The outlook at PhilaPort is bright and getting brighter as new container cranes signal ongoing growth at the recently-expanded port.
This March, two super Post-Panamax container cranes arrived from China, marking yet another milestone in the full-scale modernization process underway at Philadelphia's Packer Avenue Marine Terminal.
Shippers aiming to accelerate their time to market on the East Coast are celebrating the cranes' arrival.
In the past decade, PhilaPort has experienced a container growth of 166%. 2018 was the best year on record—the port handled an impressive 600,000 20-foot equivalent units.
In a recent press release, David Whene, president of Greenwich Terminals, the operator of the Packer Avenue Marine Terminal, called PhilaPort a model of fully-modern port operations. A $300 million public-private investment in the terminal has helped it become a new standard-bearer in the shipping industry.
Whene also pointed out that the terminal is currently under capacity, meaning that the new cranes will help it handle rerouted surplus bound for nearby terminals experiencing congestion.
"We have always known that PhilaPort's market potential was significantly greater than reflected in past volumes," says PhilaPort CEO Jeff Theobald. "Now with our capital improvements nearing their completion, shippers should know that we have excess capacity and that we are open for new business."
As PhilaPort continues to grow, many businesses that depend on the port are looking for cost-effective warehousing solutions in our area. American Supply Company operates a full-service, commercial warehouse and storage facility, conveniently located with easy access to I-95 and I-76. Contact us today to learn more about how we can accommodate all your warehousing and distribution needs.