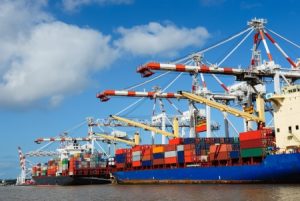 The Port of Philadelphia's $300 million expansion is continuing to bring new business opportunities to The City of Brotherly Love. After increasing its import volume by a whopping 21.9 percent in 2017, the port welcomed the first vessel from its newest carrier earlier this week.
The M/V Warnow Sun of Atlantic Ro-Ro Carriers Inc. (ARRC) arrived at the Tioga Marine Terminal on Tuesday, August 21.
As part of ARRC's multi-cargo handling fleet, this vessel carries breakbulk, project cargo, vehicles and containers between St. Petersburg, Russia; Antwerp, Belgium and the United States. ARRC was first established as a liner service in 1995, and it is currently the only direct transatlantic carrier connecting Russia, Europe and the U.S. Robert Palaima, president of Delaware River Stevedores (DRS) and operator of Tioga Marine Terminal, expressed excitement about the port's new partnership with ARRC in a recent press release.
"The ARRC service and the types of cargo they load is exactly in our wheelhouse," said Palaima in his statement. "This service requires a diverse set of skills and includes everything from heavy lift know-how to the more straightforward container operations."
Meanwhile, ARRC president Rick Shannon credited the PhilaPort team's "mix of capabilities, facilities, equipment and support" with allowing his company to grow its cargo volumes.
Here at American Supply Company, we're proud to support the ongoing growth at PhilaPort with our full-service bonded warehousing and distribution facilities. To learn more about any of the services we offer, feel free to give us a call or contact us online today!